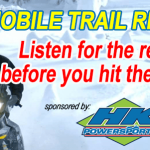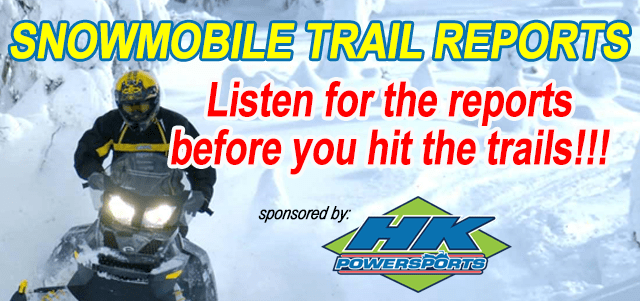 Last Updated January 16, 2020
Looks like winter is returning! It's been snowing off and on across much of the state since last night. Accumulations so far have been ranging from 4 to 6".
As snow on the ground increases, clubs are packing and grooming, working on getting the trails back in shape. Colder temperatures tonight and tomorrow will freeze today's wet snow into a great base. With 4-8" expected over the weekend trails will improve greatly. It's anticipated that many areas will be opened up again over the upcoming 3-day weekend.
Please remember that gates in many areas were closed last weekend. Riders should expect to find some trails CLOSED and need to respect trail closures and stay off those trails!
Areas not noted in this report have received new snow and clubs will likely be out over the weekend with grooming equipment. Regular snowmobile trail condition updates will be posted here on Thursdays of each week. You can also get information on our Facebook Page, or by contacting the clubs directly.
Great North Woods Region
Riders should expect early season conditions in many locations. Watch for open water bars. Please remember to staff OFF plowed roads that are not signed as OPEN and that the speed limit on shared plowed roads is 20MPH.
Pittsburg Ridge Runners, Pittsburg: 6" of new snow. The Village and trails to VT and Back Lake are CLOSED. The rest of their trail system is OPEN with fair to very good riding reported. Grooming is ongoing.
Swift Diamond Riders, Stewartstown (Coleman State Park/Diamond Pond): All trails are open, 4+" new snow, fair to moderate conditions. Grooming is ongoing.
Lakes Region & White Mountain Region
Trails have received 3-5" of snow today and riding is available. Expect early season conditions. Clubs are grooming as conditions allow.
This report's rating system:
Great – Trail has a really good base, groomed flat with solid snow that should hold up to traffic.
Good – Trail is flat with a good base, there may be ice underneath, and while groomed snow could become a bit mushy.
Moderate – Trail has decent riding, but may have bare spots, ice, or rough sections.
Marginal – Trail is passable, but may have thin snow, open or partially filled water bars, bare spots, ice, or trees down.
For a full list of Snowmobile Trails & Conditions, visit NHStateParks.org
Snowmobile Trail Reports Sponsored by: